---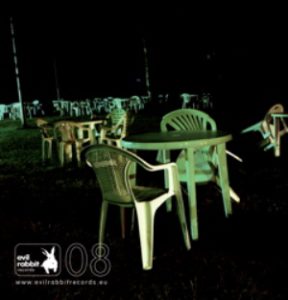 ---
Album Info
live recorded by micha de kanter (4, 7, 11), chris weeda (2, 3, 6, 8, 9, 10) and jurre wieman (1, 5, 12), november 2006 – april 2007 at bethaniënklooster, amsterdam
mixed by chris weeda, mastered by bastiaan kuijt
track 1, 2 by corrie van binsbergen
track 5 by joost buis
track 12 by hoagy carmichael
track 6, 7, 8, 9 by esmée olthuis
track 3, 11 by albert van veenendaal
track 4 by buis/ olthuis/ van veenendaal
track 10 by de joode/ olthuis/ van veenendaal
all compositions ©buma
special thanks to bethaniënklooster, jack lina, mark doorn, chris weeda, stichting loud, buma cultuurfonds, sns reaal fonds, prins bernhard cultuurfonds, kattendijke/ drucker stichting
very special thanks to corrie, joost, wilbert & han
design: lysander le coultre (strangelove creatives)
photography: monique besten
distribution: www.subdist.com
evil rabbit records is a member of www.toondist.com
Reviews
sven claeys, 8 september 2009, kwadratuur.be

saxophonist esmée olthuis' and pianist albert van veenendaal's long time cooperation is documented in two releases. when one knows another through and through, the danger of becoming routinous and somewhat less surprising is at hand. this seems to have been the starting point for a series of concerts olthuis and veenendaal organized in the amsterdam bethaniënklooster as for each concert they invited a new guest. when guests are in your house, you never quite know what you can expect. a guest brings along his own baggage, habits and vocabulary and that demands listening, communicating, adapting and striving to tell something fascinating. therefore, the title of this album, which contains a selection of these concerts, is well chosen.

the songs contain strongly aligned passages, clear melodic work and solid structures - mainly thanks to the inventive piano playing- and often leave much room for improvisation. the opening song, the wonderfully titled "the train to ulan bator" presents drumming phenomenon han bennink in a jolly mood. in his typical self relativistic way he imitates -the arbitrator whistle in the mouth- a slowly speeding up steam locomotive. when the binding, tight piano motifs take off and olthuis enthusiastically and passionately improvises, that old locomotive by now is transformed into a raging express train. here, the firm and heavily grooving song reaches its first climax. bennink must have been in a rhythmic mood that night because also solex blues and new orleans contain pronounced rhythm work.

the first three songs with bassist wilbert de joode sound freer. especially the subtle and elegant 'seagull' is fascinating. the arco bass solo both dives deep and circles in high tone registers. together with the impassioned saxophone playing and the prepared piano, in this track a beautifully colored sound pallet is created. the fourth song with de joode titled 'bosch & paard' (forest & horse), is playful and frisky with clever bass playing.

with trombonist joost buis the communication obviously went smoothly as well. in 'd.s. hoen' this leads to harmonious interplay between the horns while the piano supports rhythmically. the center of the piece is free and gradually the track climbs towards an intense climax. 'mysterious variation 1' with buis on lapsteel guitar, starts rather abstract with jingling prepared piano sounds that merge with short, muted guitar notes. gradually the piece becomes more melodic, mainly due to the sax.

of the two pieces with guitarist corrie van binsbergen on this cd especially 'next day' stands out. after an free intro with spherical guitar sounds veenendaal unfolds a mysterious piano motif which gives sax and guitar plenty of space to elaborate. the rather epic 'esmita' sometimes sounds too plain for lovers of adventure and with almost 12 minutes it is too long to stay interesting. the duo certainly may be pleased with the musicians they have invited. moreover, based on this album, a future invitation definitely would be worthwhile.

alfredo rastelli, 22 december 2008, sands-zine

let's say it immediately: this trilogy of new releases by the dutch label evil rabbit maintains those qualitative standards we are already accustomed to by their earlier productions. (…)

more towards the legacy of improvisation, "the mystery of guests" is a duo, consisting of the omnipresent albert van veenendaal and the saxophone player esmée olthuis; the disc brings us impetuous jazz in which the two hosts are joined each time by another musician: the eclectic drums of han bennink (listen to the strong 'de trein naar ulan bator', the disrespectful 'solex blues', and the romantic 'new orleans'), the double bass of wilbert de joode (in the frenetic 'the tasty plum', the experimental 'zeemeeuw' and the unpredictability of 'bosch & paard' which opens up splendidly at the end), the trombone and lap steel guitar of joost buis (the contemporary 'mysterious variantion 1' and 'in der ursuppe') and the guitar of corrie van binsbergen (greatly inspired in the long 'esmita' suite). a great lesson of free-jazz between modernity and tradition, improvisation and composition. (…)

libero farné, 20 october 2008, allaboutjazz.com

the cd's of evil rabbit records are defined by an ingenious and always uniform graphic identity, created by lysander le coultre.

through a round hole in the thin black mat cardboard cover you can see a colored inlay card with the information about the author and the title of the cd. the factor that every time changes, is only the color and the text in the round window. once you've removed the inlay card with the information and the cd from the cover, you reveal the other concentric round openings behind the window, which, on a beige background, form a frame around the little black rabbit: the logo of the label. my detailed description might be totally senseless, because the only picture (which can be downloaded) shown on the site is the inlay card.

the dutch pianist albert van veenendaal and the german double bass player meinrad kneer are the initiators and responsible producers of this independent label, through which they release their own work, as well as their friends'.

as composer and musician van veenendaal moves within the dutch tradition; his cd's are varied between austere and radical improvisations and more dynamic and melodic ones, based on a clear thematic structure. the cd 'mystery of guests' belongs to this second genre and has been signed together with saxophone player esmee olthuis. the sessions were joined each time by some of the most well-known dutch improvisers and have been recorded live between november 2006 and april 2007. the result is very interesting, at times gripping; fresh and lively improvisations take shape including a big variety of accents, but they remain always elegant and controlled, without falling back on recognizable clichés or boasting show-off.

improvisation and interplay here are of high level, but the composed themes are equally important: one moment definite and lively as in 'esmita' and 'bosch & paard', both by olthuis, the next barely recognizable but strong enough to offer chances to be developed in clear defined atmospheres. all musicians, with the only exception of de joode, are author of at least one piece. 'mysterious variation 1', created by van veenendaal, olthuis and buis and 'mysterious variation 2', by the two musicians together with the double bass player, head more towards the serious and praiseworthy path of total improvisation. the last piece 'new orleans', composed by carmichael, is interpreted in a sensual and relaxed retro style by a trio, where the two musicians are joined by the very deliberate bennink.

mischa beckers, 16 august 2008, jazzenzo.nl

evil rabbit records was founded in 2006 by pianist albert van veenendaal and contrabassist meinrad kneer. in their own words, it is a label for musicians, by musicians, with the production and promotion of original contemporary jazz and improvised music the goal. in the meantime, the present catalogue now encompasses 10 albums. the 5th, 7th, and 8th are seductive sabotage, rigop me, and the the mystery of guests, respectively and are good examples of a cross-section of what the label offers. (…)

olthuis: "as a musician i am always seeking the essence of music, the experience of the moment, a connection between worlds of perception and the potential of my play. i love contradiction: improvisation and composition, abstraction and lyricism, rawness and refinement, silence and rowdiness, order and chaos. my interests are tone, virtuosity, and a continuous pursuit of perfect motion." "the mystery of guests" reflect these words very well , like in van binsbergen's composition, "de trein naar ulan bator". here, van veenendaal plays an up-tempo groove where she can improvise freely upon. in such pieces she uses her strong and clear tone, staccato lines and lovely flageolets exploring the saxophone at the most. esmita is a very lyrical piece where she plays unison melodys with van binsbergen over van veenedaals beautifull chords. at other places more abstract and angular lines are used.tiltles such as "zeemeeuw" and "bosch & paard" provide a nice guide for interpretation. what is striking about this live recording is also the humor and playfulness. the guests have enough space to show themselves and to challenge each other.

herman te loo, may 2008, jazzflits

"the mystery of guests" is the title of the cd as well as the name of a concert series organised by the duo esmée olthuis (saxophone) and albert van veenendaal (piano) in amsterdam's bethaniënklooster.

the recording, however, had easily could have been called "adventures with guests": adding different musicians to the basis of the duo is surprising and exciting and leads to quite a variation in music. there is mysterious and tempting free improvisation (mysterious variation i with joost buis on lapsteel guitar and trombone and mysterious variation ii with double bass player wilbert de joode) but also narrative composition (de trein naar ulan bator with drummer han bennink, next day with guitar player corrie van binsbergen) and sometimes deeply gripping music with the straightforwardness of rock music, dramatic and passionate. this for example in esmita but also in the one standard among the twelve tracks: hoagy carmichael's new orleans. han bennink on drums inertly opens the tune as elegy on hurricane katrina. but then he pokes the fire and namely esmée olthuis is driven to a bloodcurdling, bluesy climax. the remarkable thing about all twelve tracks is how smoothly the duo adapts to their new partners but never loses its own identity. this must be the classiest performance of them all, the greatest trumps being van venendaal's rhythmical piano performance (where he uses every single part on and in his instrument) and olthuis' joyous alto-sound.

muziekwereld nr.2, 2008

last season brought the series olthuis & van veenendaal & the mystery of guests to bethaniënklooster in amsterdam. saxophonist esmée olthuis and pianist albert van veenendaal invited one guest per performance, the cd being a selection of concerts played in this series.

the guests in question are corrie van binsbergen on guitar, joost buis on trombone and lap steel guitar, wilbert de joode on double bass and han bennink on drums.

the various casts make it happen from beginning to end: during contrary improvisations displaying no convention at all but all the more pleasure the musicians meander through scenes of fun where a piano-line will turn into a house-motive and subsequently into a spontaneous outburst of chaotic pleasure. this is music for all the senses, played with great suppleness, visual and imaginative. and here too, the live-recording is above average.

bruce lee gallanter, downtown music gallery

every time i turn around more dutch musicians pop up & surprise me/us with their unique creative abilities. i can't say that i heard of either esmee olthuis or albert van veenendaal before this disc, but no doubt we will be hearing more from them in the future. each piece features a trio with a different guest added. each guest helps to create something unique. han bennink kicks off "de train naar ulan bator" sounding like a train with just brushes, a snare & a whistle. this trio with alto sax, piano & snare is an immensely fun & animated piece. "next day" features some twisted, eerie guitar from corrie van binsbergen with haunting harmonies for the sax & guitar together while the piano sketches out the central theme. what i find most interesting is that each piece is partially written and features important contributions from each guest, as if the pieces were written with the guest & duo in mind. esmee and albert are both gifted musicians and each piece shows off a different side or approach to their playing. this is no mere improv only session, it is so much more and completely successful throughout. 76 minutes long and consistently engaging from the beginning to the end.