---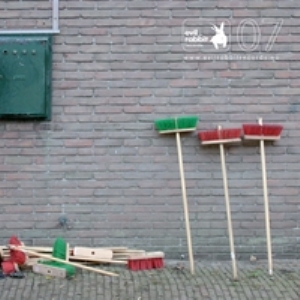 ---
Album Info
recorded by colin mclean, january 9 & 10, 2006 at ot301, amsterdam
mastered by ernst karel
all compositions by dijkstra/ pallesen & heather, except 3 & 6 by dijkstra ©buma
all live improvisations, no overdubs
thanks to kraakgeluiden in de binnenstad, capricia balistreri and fonds voor de scheppende toonkunst
design: lysander le coultre (strangelove creatives)
photography: monique besten
distribution: www.subdist.com
evil rabbit records is a member of www.toondist.com
Reviews
ken waxman, 25 may 2009, jazzword.com

two complementary – and exemplary – looks at the compositional and improvisational skills of jorrit dijkstra, a transatlantic musician who frequently works with musicians both in his native holland and the united states.

now based in the boston area, dijkstra's partners on rigop me are dutch guitarist paul pallesen – in whose bite the gnatze, the saxophonist also plays – and berlin-based, melbourne-born drummer steve heather. curiously enough, all the other members of the flatlands collective are chicagoans – trombonist jeb bishop, clarinetist james falzone, cellist fred lonberg-holm, bassist jason roebke and drummer frank rosaly – all part of that city's explosion of now not-so-young improv talent. on maatjes lonberg-holm also plays electronics, while dijkstra plays lyricon and analog electronics as well as alto saxophone. however the sax is left in its case on rigop me as dijkstra only works out on lyricon, loop machine and analog electronics.

many of the tracks on that cd are built upon shattering electronic blasts that loop and pulse into a constant processed drone, leavened by clinks, flanges and claw-hammer banjo-like picks from the guitarist. sometimes the timbres from each instrument are undifferentiated; other times sound(s) can be properly attributed. there are intermittent drags and bounces from cymbal, nerve beats from drum sticks and distorted downward runs from a potentially unplugged electric guitar. most of the time, however, these textures are shrouded in part by flat-line static and crackling, as pinball-like smacks and celesta-type pings cumulate to waft across the full broadband spectrum.

two divergent examples of this appear on "fezex me" and "rigop me". although eschewing the rock-star-like reverb he shows off elsewhere, the former is a pallesen showcase. here, his single-string picking and intense arpeggios are magnified with whirling e-bow pressure, as whooshes and crunches gradually move to the foreground as space-satellite signaling and quivering pulses fill all the remaining space. eventually a combination of slurred string fingering and mouth-slapping, probably lyricon quacks lead to a diminuendo fade.

in contrast, "rigop me" is a group effort that reveals surprising lyricism among the guitarist's rasgueado, dijkstra's slide whistle-like shrills and restrained drum beats. moving from anadante to adagio, the broken chords linger and expand underlining seemingly random snare drum beats with stretched pitch velocity. finally the piece reaches a climax of ring-modulator-like clangs and undulating pitch adjustments.

minimizing the electronic interface and doubling the number of players maatjes – named for dutch raw herring, a popular street snack – was recorded nearly two years later in 2008, following a european tour by the sextet. building on this momentum, the program is mostly made up of dijkstra's compositions whose arrangements emphasize the formalized and programmatic. group improvisations, "in d flat minor" especially, provide the exceptions, with that tune traveling through the peaks and valley of interchangeable riffs. stuffed into it are lower-pitched saxophone tonguing, double-gaited swing from both string players and quasi oomph-pah-pah from the trombonist.

bishop's plunger tones and cries from the reed section chromatically balance a track like "mission rocker" so that the higher-pitched voices meld into pedal-point bends from bowed bass and cello. shifting to an adagio section, falzone's liquid stop-starts take centre stage, as blustery 'bone brays plus rosaly's drum rolls and pops hold the bottom. in contrast, despite double-timed ruffs and beats from the drummer "micro mood" emphasizes a more formal, europeanized lilt with cello sweeps and trombone pumps the contrapuntal melody breaks apart – and aided by synthesizer twists – turns and pulses back again upon itself. furthermore, phil's tesora is filled with bow-snapping sul ponticello lines from lonberg-holm, tension-building ostinato from roebke and rappelling rim shots and bounces fragment the narrative enough so that the popping notes from the horns don't control the tune. the weather further clears up with reed-biting clarinet blasts, braying trombone grace notes and background hissing and fluttering synthesizer reverb.

dijkstra's multi-faceted contrapuntal structure is best expressed on the climatic "sirocco song" as contralto clarinet provides strident contrast to the other horns. then, after bishop tongues fragments of the intricate melody, the cellist sounds a tremolo version of the same pattern. the lyricon's warbling trill is seconded by clarinet chirps until the vector shifts to a horn trio. finally, as rosaly's clipping rim shots and press rolls maintain the beat, an echoing finale is constructed out of a smooth clarinet obbligato and thick trombone mutterings. inventively transatlantic, dijkstra's music can be appreciated whether it suggests the flatlands of the netherlands or illinois.

jay collins, december 2008, cadence magazine

tone dialing is a dutch-based trio (jorrit dijkstra, liaison, synth, loop machine; paul pallesen, g, analog elec; steve heather, d, perc, sampler) that favor electronically-manipulated acoustic instruments with an occasional sampler or two to help them along on their minimalistic journey. the six pieces (gumyt me/ fezex me/ rigop me/ yoxia me/ oemik me. ziyak me. 46:14. jan 9-10, 2006, amsterdam, holland) on rigop me (evil rabbit 7) are improvised, but often sound fully integrated due to plenty of time creating together. often armed with a sense of foreboding, the trio creates dark, yet mysterious products that offer a sense of anticipation for their next move. the slow crawl of "gumyt me" is a feature for the main acoustic instruments in conjunction with electrowashes, an approach also taken on the electro-funk of "yoxia me". the balance of the program, however, garners the high-octane electronic surges that are borderline grating, as seen on "fezex me", or the quiet blips of the two concluding pieces. for the group at its best, the spacious dreamlike "rigop me", is the most compelling presentation that floats away marvelously at its conclusion.

alfredo rastelli, 22 december 2008, sands-zine,

let's say it immediately: this trilogy of new releases by the dutch label evil rabbit maintains those qualitative standards we are already accustomed to by their earlier productions. (…)

last but not least, the trio "tone dialing", perhaps the most heterodox product to be found among the works of evil rabbit. the band members are jorrit dijkstra (lyricon, analog synthesizer, loop machine), paul pallesen (guitar and analog electronics) and steve heather (drums, percussion and sampler); as you can understand from the chosen instrumentation, we are far away from the usual jazz sound, but not from the one of improvisation. the point of departure clearly cannot be the same: here in fact, the long opening trace 'gumyt me' develops electronic minimalism from the taste of an avant-garde artist towards the productions of 'rechenzentrum', rich of concrete and less concrete sounds, between analog and digital. the following 'fezex me' still pushes into improvisation, it gives a glimpse of musical spaces, which you wouldn't expect at all. the unexpected is a theme, which comes back again and again along the whole bow of the cd, between echoes of minimalism, rock (rigop me), proto-industrial (yoxia me), improvisation (ziyak me) and electronics.

a very beautiful cd, that opens new horizons of experimentation for the always excellent evil rabbit.

yves, 2 november 2008, aufabwegen.de

a trio, which combines acoustic and electronic instrumentation and which offers a fresh form of improv, that's tone dialing. released once again in a marvelous restrained-elegant presentation on evil rabbit. the sounds are covered and buzzing-warm - it's not about confrontations.

joachim ceulemans, september 2008, kwadratuur.be

for the recording of this album jorrit dijkstra put away his saxophone to replace it with a less ordinary instrument: the lyricon, an analogue synthesizer from the seventies, which is steered by something looking like a clarinet. dijkstra plays the instrument already for quite some time, but it is so far the first time that he puts the saxophone completely away. together with paul palessen and steve heather he forms tone dialing, a trio which is mainly busy with electronic experiments, characterized by drones, extreme pitched tones and sterile computer-sounds. although on 'rigop me' electronics clearly dominate, guitar (paul palessen)) and drums (steve heather) have a major part in the groups' sound. the accompanying role of those two instruments is abolished for a big part, which makes them not only being used as musical fundaments, but as fully adequate constituent. heather puts down rough, rhythmic accents, which are in extreme contrast with the static evolving music. the fragmentary, often processed guitar parts at the same time take care of an intimate, but restless sphere. the underlying loops, often having a rhythmic function, go patiently on in between, throughout the six woven-out improvisations, which puts the listener unnoticed into a hypnotic spiral. there is not much space for melody on 'rigop me', it's mainly about making music with sounds, which are offered by the moment. creative handling of tones by bending them towards extreme high or low frequencies is a trick being used here regularly. roaring and sharp whistling tones are being combined with low, oscillating sub-sounds. the electronic work of dijkstra is in striking contrast with the nervous guitar playing and the impressively percussive sound range. this strangely enough is the big strength of the album. the energy, which is created by these collisions, forms the fuel powering this trio. this immediately makes it obvious, that tone dialing is a group happening, where individual contributions get their meaning within the total sound. not much will be memorized after having listened to the six improvisations of 'rigop me', but that is not the intention anyway: it's the listening experience, which is important. more than enough happens on this album to satisfy the lovers of electronic experiments and improv music, to keep them happy without complaints for an hour.

mischa beckers, august 2008, jazzenzo.nl

evil rabbit records was founded in 2006 by pianist albert van veenendaal and contrabassist meinrad kneer. in their own words, it is a label for musicians, by musicians, with the production and promotion of original contemporary jazz and improvised music the goal. in the meantime, the present catalogue now encompasses 10 albums. the 5th, 7th, and 8th are seductive sabotage, rigop me, and the the mystery of guests, respectively and are good examples of a cross-section of what the label offers. (…)

before jorrit dijkstra moved in 2002 to boston, he was active in the amsterdam jazz and improv scene. he studied improvisation and composition with among others misha mengelberg, steve coleman and steve lacy. for example he worked with willem breuker, guus janssen and cor fuhler. own groups were (and are) the jorrit dijkstra trio, drones in the bones, the cool-jazz quartet sound lee and his electro-acoustic group tone dialing.

tone dialing's sound-artists often build their pieces around a kind of drone, existing for instance out of sampled, heavily distorted analogue synthesizer sounds. heather reinforces those with drummed rhythms, which are often mixed towards the background. one time a mysterious and meditative kind of sound evolves, then it tends to become a crazy going typing machine. all this is covered by careful woven layers of (atonal) ornaments, which are originated in the lyricon, an analogue vintage wind-synthesizer from the seventies, the guitar or diverse electronic instruments. tones are put in such an order, that slowly a melody will be discernible. this is a very gripping album in a not so common genre.

beppe colli, 4 june 2008, cloudsandclocks.net

it still happens, if only once in a while, that i get to be pleasantly surprised by a cd that i've found in my mailbox: a "mysterious object", recorded by an "unknown entity" (at least, unknown to me), that after the proper number of listening sessions reveals itself to be, if not an unprecedented masterpiece (i'm very sorry to say this, but for a long series of reasons, our present time is not the most favourable era when it comes to producing masterpieces), at least something that reveals a skillful use of form, and the chosen technical means.

this is the case with rigop me, an album that (according to the liner notes) is for the most part derived from live improvisations, with no overdubs (but i believe the work, which was recorded by colin mclean at ot301 in amsterdam, and mastered by erst karel, to have been mixed and edited later). tone dialing is the name of a trio of musicians performing here, whose degree of mutual understanding (though "open", the musical line is never vague, or uncertain) tells of a long mutual past knowledge.

the line-up consists of jorrit dijkstra on lyricon, analog synthesizer, and loop machine; paul pallesen on (electric) guitar, and analog electronics; steve heather on drums, percussion, and sampler. it's a trio whose sound, taken as a whole, has a pleasant "electronic" flavour, with a somewhat "lo-tech" (if not "lo-fi") trait that reminded me of zga's "naïveté" (though this trio don't resemble zga at all). here, "at first sight", coordinates appear to be at about halfway between some "particles"-friendly approaches to modern improvisation that put sound under a microscope, and some trends ("illbient"? "intelligent techno"? "slow techno"?) that have the sound develop well inside a rhythm map.

seeing the name "lyricon" made me fear for the worst: an old, almost home-made, instrument designed in order to give wind instruments the modern potential of synthesis (at a later stage than the steinerphone, but well before yamaha's industrial approaches), the lyricon reminds me most of all of tom scott's so-so explorations. here the opposite is true: the instrument's sound is not clichéd, its timbres not so easily "recognizable". i have to add that - i did a web search after assimilating the cd - jorrit dijkstra's background and projects (maybe he's not the leader, but here he's a first among equal) appeared to be quite different from what i had imagined; hence, maybe, a reason why this project is so strong.

at ten minutes, gumyt me is a very "user-friendly" opening track: regular rhythmic loops that repeat themselves at intervals that are quite apparent to one's ear, long events over a rhythmic figure, everything clearly placed on the time grid; snare drum played with brushes, a trebly guitar, interesting timbres, a closing rimshot.??for brevity's sake i will define the following track, fezex me, as a timbrally more varied and interesting, but totally free from an apparent pulse, version of the previous track. there's an "orchestral" crescendo at about 2' 50", with low-sounding percussion sounding almost like tympani, and two highly dramatic events - frequencies shifting abruptly - at about 5' 24" and 7' 07".??rigop me is a composed track, with a slow unison lyricon-guitar which almost works as a theme, with percussion in the background; all becoming faster, almost double-time, the guitar now playing chords; here the lyricon performs a melodic line whose sound changes, from that of a harp to the peculiar, bell-like sound of something going through a ring modulator. "dramatic" drums enter at 5' 30", in closing we have a brief loop (almost like a lfo cycle).??overtly rhythmic, trebly cymbals, a bass drum that bit by bit comes to the foreground, with a "medium" groove, yoxia me reminded me more than a bit of can: at first, of can in their soon over babaluma period, then - when the lyricon started sounding like an "ethnic flute" - of can in some of their ethnological forgery series episodes; there's a strange guitar, sounding at first almost like a mutation of those "sliding" chords played by classic-era steve cropper, then sporting some funky accents!

oemik me works quite well in opposition to the previous track: not as rhythmically pushed, it's timbrally quite varied, with a very expressive low-end frequency, and a nasal timbre so typical of the square wave that, near the end, unexpectedly gives shape to a rhythmic figure.

closing the cd, another composed track: the brief ziyak me has a nice synthetic part which almost works as a tuba part, trebly cymbals, and some slow guitar arpeggios; a nice melody played on the lyricon is in the background, then the guitar is playing almost like a mandolin, then more cymbals and drums; surprisingly, the final result reminded me of something quite on the pastoral (!) side.

herman te loo, may 2008, jazzflits

The Tone Dialing trio consists of reedist Jorrit Dijkstra, guitarist Paul Pallesen and percussionist Steve Heather. In addition to their own (semi-) acoustic instruments they play all kinds of electronics. The opt for the 'old fashioned' technique of analogue equipment, which has a much more marked character than the often so clinical digital sounds. Dijkstra plays the lyricon, a rather obsolete electronic wind instrument, which provides the occasional beautiful glisses, if the instrument is recognizable at all in the primeval soup that the threesome serve up on 'Rigop Me'. And just like all instruments collide into an atmospheric soundscape, the three musicians become one with the music. What counts, is not the individuality of the three musicians, but the individuality of the group sound, which is completely unique. The only thing Tone Dialing's open improvisations occasionally reminded me of, were the early sound experiments by Pink Floyd and other sixties psychedelic bands. But passed on to the 21st century, of course.

bruce gallanter, 24 april 2008, downtown music gallery

Featuring Jorrit Dijkstra on lyricon, analogue synth & loops, Paul Pallesen on guitar & analogue electronics and Steve Heather on drums, percussion & samples. Jorrit Dijkstra used to play alto sax and had a quartet disc with Guus Janssen (doing the music of Lee Konitz) and a duo disc with John Hollenbeck. Last year, Jorrit put together a project called Flatlands Collective, an all-star Chicago ensemble, with Jeb Bishop & Fred Lonberg-Holm. Jorrit has been moving more towards electronics using an analogue synth and a lyricon, an electronic wind instrument that was popular in the seventies. So for this disc, Jorrit has abandoned his alto sax altogether.

At first, I was worried that Jorrit's use of lyricon and analogue synth would be too much - perhaps this is that old jazz snob attitude that I have long since abandoned. This disc consists of six pieces, all live improvisations. The thing is they often do not sound improvised, they are very focused and song-like in the way they unfold. "Gumyt Me" has an eerie sound and subtle, suspense-filled groove. As the drummer plays a throbbing beat, the guitar and electronics drop selective sounds onto the sparse canvas. Quite mysterious and most effective. On "Fezex Me," the trio hums and buzzes with selective sonic layers of electronic crickets and other eerie electric insects. What I dig about this music is that there are no actual solos, it is creating images by altering textures and refining the sounds as they evolve. The trio sounds as if they are quietly rocking out on "Yoxia Me," that great pulse/groove and dreamy guitar are most effective. My head was nodding from side to side and I almost felt like dancing. Altogether this is a strange yet enchanting disc that doesn't quite sound like anything I've heard in a long while. - BLG

squidco.com

tone dialing's music has developed into an idiosyncratic language, combining elements of free improvisation, minimalism, and the aesthetics of "glitch" electronica. the trio originated in 2000 with weekly performances at amsterdam's alternative ascii internet café - blending their sounds with punk hackers tapping keyboards in the background. stretchy chord landscapes, hesitant guitar picks, subtle feedback effects, sampled drum noises, and analog synth textures are the ingredients for tone dialing's trancey interactions. dijkstra, pallesen, and heather's carefully structured improvisations often develop slowly with a delayed sense of drama, and respect beat and melody as important musical elements.

after the limited edition cdr elektrodoki (2001), tone dialing's first official cd release rigop me (evil rabbit records 07) features dijkstra on lyricon and analog synth, pallesen on guitar and heather on percussion and samples. this intensely focused document shows the progress of their long-lasting chemistry in six beautiful improvisations.

saxophonist and composer jorrit dijkstra spent his formative years in amsterdam's vibrant improvisation community, before moving to the united states in 2002. he has received the prestigious podium prize and has worked with willem breuker, guus janssen, benoît delbecq, herb robertson, barre phillips, ikue mori and jandek. his current projects include his flatlands collective, with leading chicago improvisers, and an electro-acoustic duo with new york drummer/composer john hollenbeck. dijkstra uses analog electronics - including the lyricon, a vintage electronic wind instrument from the seventies - to extend his already flexible saxophone style.

paul pallesen counts as one of holland's biggest guitar anti-heroes. he somehow balances a quiet reserve with a broad emotional range. apart from being a deeply-rooted improvisor, he is a master in african guitar traditions and celtic folk banjo styles. he composes for his own folk-improv group bite the gnatze and plays in the astronotes and the gravitones. he has worked in theater productions and with many figures in the amsterdam improvisation scene, including cor fuhler, jaap blonk, wilbert de joode, and martin van duynhoven.

australian percussionist steve heather left melbourne for amsterdam in 1994, and currently lives in berlin. his huge dynamic range, combined with his precise sense of groove, make him one of those drummers that are so hard to find. apart from his junkyard drum set he uses the percussive qualities of cactuses, chopsticks, shells, and mushroom boxes in combination with a sampler triggered by his drumset. he has worked with martin siewert, boris hauf, toby delius, jon rose, cor fuhler, andy moor, and axel dorner, among others.