---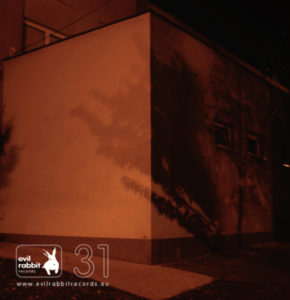 ---
Album Info
recorded by andreas willers, kleinmachnow, april 2020
mastered by stefan noltemeyer, berlin
all compositions by andreas willers, ©gema
the tracks on this album were self-recorded and mixed with only minor editing using two acoustic steelstring guitars, a 1930's bacon&day sultana archtop (track 2,4,6) and a 1956 gibson lg-2 flattop (track 1,(2),3,5,7,8)
special thanks to my family for letting me pluck away
design: lysander le coultre (strangelove creatives)
photography: monique besten
distribution: www.subdist.com
evil rabbit records is a member of www.toondist.com
Reviews
Geert Ryssen, 19 february 2021, fullcirclemisicblog.be

German guitarist Andreas Willers performs eight pieces solo on acoustic guitar. As with many musicians, the corona era is the trigger to be creative on a small scale. On 'Haerae', Willers improvises with complete abandon, sometimes for ten minutes, sometimes only a minute and a half. The sounds he produces are not always what is conventionally expected of his instrument. The sonorous possibilities are explored from all angles, but this is not a mere study work. Each piece does have a direction and a certain atmosphere and sounds like a set of thoughts that include associations, inferences and jumps.

The musician in Willers blooms again in beautifully constructed gems that do not violate silence.

Geert Ryssen, february 2021, jazz & mo'

De Duitse gitarist Andreas Willers brengt solo acht stukken op akoestische gitaar. Zoals bij veel muzikanten is het coronatijdperk de trigger om kleinschalig creatief te zijn. Op Haerae improviseert Willers er met volle overgave op los, soms tien minuten lang, soms slechts anderhalve minuut. De klanken die hij tevoorschijn tovert zijn niet altijd wat conventioneel van zijn instrument wordt verwacht. De sonore mogelijkheden worden vanuit alle hoeken verkend, maar toch is dit geen louter studiewerk. Elk stuk heeft wel degelijk een richting en een bepaalde sfeer en klinkt als een stel gedachten waar associaties, gevolgtrekkingen en sprongen deel van uitmaken.
De muzikant in Willers bloeit telkens weer open in mooi ge(de)construeerde pareltjes die de stilte geen geweld aandoen.

Dolf Mulder, 16 february 2021, vital weekly #1272, week 7

This is a great work of solo acoustic guitar music by German improviser Andreas Willers. So far, I was only aware of the work by Hans Reichel, another interesting German improviser on acoustic guitar. Willers is of the same generation and started his work at the end of the 70s. His first album was a solo album, released in 1981 for the famous German FMP-label. Over the years he worked in the fields of improvisation and jazz as well as new music, taking inspiration from blues, rock and noise. After a career of over 40 years, his collaborations are too many to mention. Occasionally he recorded a solo album what makes 'Haerae' one in e series of solo albums he recorded over the years. The title sounds Latin, but I'm not sure… He presents eight improvisations that were self-recorded in April last year and underwent only minor editing. He plays on two different acoustic steel string guitars and uses some small objects. Willers has a baffling technique using many extended techniques. This does not make however his improvisations of a highly abstract calibre only, nor is it just a showcase of his technique. His improvisations remain very accessible and also poetic in a curious way. The sounds, the gestures and motives he creates lead up to music that is very imaginative and personal, imprinted by a story he wants to tell. 'Both Single' consists of two very different parts. The first part investigates sound and vibration, whereas the second part is far more conventional with melodic elements. Because both are parts of the same 'piece' one tries to find a connection. But the differences prevail. Well, the title gives a clue I suppose: 'Both single'. This is only one example of how Willers plays with contrasts. There are sections with allusions to jazz and blues using melodic elements on the one hand, like 'Langh's arm 3-5'. On the other hand, an improvisation like 'Mnema' is an example of his interest in exploring sounds, starting with bouncing motives, followed by percussive sounds, playing the guitar body, very noisy sounds, etc. A very tasteful recording of diverse improvisations.

Peter Bruyn, 28 january 2021, frnkfrt

(...) Andreas Willers is zestiger, zeventien jaar ouder dan De Boer, studeerde gitaar aan conservatoria in Los Angeles en Hamburg, geldt als virtuoos op — vooral — de elektrische gitaar en maakte naam in jazzkringen. Hij speelde en speelt met coryfeeën als Trilok Gurtu, Gerry Hemingway (2), David Murray en Paul Bley, en ook veel met de Duitse jazzbassist Meinrad Kneer, op wiens Evil Rabbit Records hij 'haerae' uitbracht.
Ook hij heeft alleen een enkele akoestische gitaar ter beschikking — nou ja, eigenlijk twee die hij in de verschillende nummers afwisselend gebruikt — maar terwijl ook hij zich beperkt tot tokkelen op de snaren, het aanslaan van akkoorden en het bekloppen van de klankkast, is zijn speltechnische bagage veel uitgebreider. En dat laat hij horen ook.
Net als bij De Boer heeft Willers acht stukken op zijn album gezet. Maar waar de muziek van de Nederlander iets contemplatiefs heeft, haalt de Duitser werkelijk alles aan snarenacrobatiek naar boven. Het is een indrukwekkend spelen met gitaristische vormen, om daarmee als het ware inhoud te scheppen. Op zijn website heeft hij het zelfs over 'een knipoog naar de Giuffre/Bley methode van bedachtzaam gedeconstrueerde narratieve structuren'. Nou, dat zal dan wel. Het doorgronden van die methode is in ieder geval geen voorwaarde om het album te kunnen waarderen. Het is muziek waar je oprecht van kunt genieten, omdat je als luisteraar de vakmanschap voelt. Een vakmanschap die niet op ongeïnspireerde routine is gebaseerd, maar juist bezield is. (...)

Rigobert Dittmann, january 2021, Bad Alchemy 109

Meinrad Kneer, Bassist in 7 of 8, konnte ANDREAS WILLERS, den Anführer dieser Tafel¬runde, nicht davon abhalten, dem Evil Rabbit, in dem sich unschwer ein Verwandter des Rabbits of Caerbannog erkennen lässt, ein Ständchen zu bringen. Mit nichts als 'ner akus¬tischen Klampfe, genauer gesagt, zwei Steelstrings, einer Bacon & Day Sultana Archtop aus den 1930ern und einer 1956er Gibson LG-2 Flattop. So entstand in Kleinmachnow Haerae (ERR31) und lässt mich von vornherein schwimmen zwischen haerēre = hängen / stecken bleiben, dem Psalm Ecce hæreditas Domini = Siehe, Kinder sind eine Gabe des Herrn, der Häresie = die Wahl einer abweichenden Anschauung? Ist, was 'Falten' wirft, ein Stoff? Stecken in 'Mnemo' Erinnerungen oder der kleine Nemo? Schon "Nulli Secundus" (2012), Willers' freihändiges Miteinander mit Kneer und Christian Marien, hatte ja mit la¬teinischer und wortspielerischer Sophistication gezwinkert. Unter Corona-Bedingungen klingt nun ein Solo 'so.low' und langsam wie 'langh's arm'. Ging das gut? 's gieng'. Als mit Bedacht vorgenommene Dekonstruktion narrativer Strukturen, für die Willers der Giuffre/ Bley-Methode Dank abstattet. Warum bleiben aber die Tausendfüßer, die er Fuß für Fuß akribisch studiert hat, unerwähnt? Willers harkt und biegt die Saiten wie mit Krallen, die Töne krabbeln, springen, krümmen sich in rasanter Dynamik. Flimmerndes Flirren chan¬giert mit schwammiger Reibung, drahtigem Federn, holzigem und trapsigem Klappern, gedämpftem Saitenspiel. Pikanter Swing kollidiert mit flattrigem Nachhall, schrappenden und schabenden Gesten, pochenden Lauten, knurschender Blisterfolie. Trillerige Stau¬chung oder ostinater Nachdruck kontrastieren mit gedehnter, silberfadenfeiner Poesie. Der phantastische und in Derek Plays Eric ebenso gern wie in Grid Mesh gehörte Könner entlockt da mit spitzen Fingern und unorthodoxen Eigensinn dem millionenfach abgedro¬schenen Instrument doch freiweg nochmal zauberische Frühlingsgefühle.