---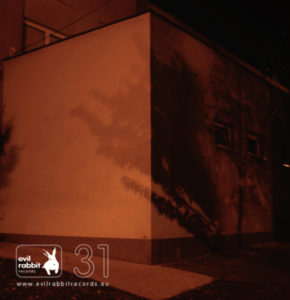 ---
Album Info
recorded by andreas willers, kleinmachnow, april 2020
mastered by stefan noltemeyer, berlin
all compositions by andreas willers, ©gema
the tracks on this album were self-recorded and mixed with only minor editing using two acoustic steelstring guitars, a 1930's bacon&day sultana archtop (track 2,4,6) and a 1956 gibson lg-2 flattop (track 1,(2),3,5,7,8)
special thanks to my family for letting me pluck away
design: lysander le coultre (strangelove creatives)
photography: monique besten
distribution: www.subdist.com
evil rabbit records is a member of www.toondist.com
Reviews
bertl, march/ april 2023, freistil #106

Mit gleich zwei Veröffentlichungen erfreut Gitarrist Andreas Willers. (...)
Dann ist da Haerae: Diese CD birgt acht Soloimprovisationen auf der akustischen Gitarre. Und auch hier besticht Willers musikalisch, mit enormem handwerklichen Können und Facettenreichtum. Im Grunde bringt jede Nummer etwas anderes. Immer wieder wartet der Gitarrist mit neuen Ideen, Sounds, spannenden Entwicklungsverläufen und überraschenden Wendungen auf. Mit Spielwitz, Temperament und Bedachtsamkeit zugleich gießt Willers improvisatorisch- gitarristische Reichtümer wie mit dem Füllhorn aus. Nicht oft hat man derartige Mannigfaltigkeit in solcher Konzentration von akustischen Gitarren gehört – und das alles angeleitet von hoher Musikalität, einem starken Sinn für klangliche Spannungsverhältnisse und Kreativität. Ein akustisches Gitarrenfeuerwerk ohne Kraftmeierei und Protzerei, und noch dazu mit einer Portion Humor. Ebenfalls große Klasse!

Claude Colpaert, september 2021, Revue & Corrigée

Son curriculum vitae est impressionnant puisque l'on y relève, parmi beaucoup d'autres, les noms des frères Bauer, de Jim Black, Paul Bley, Marc Ducret, Trilok Gurtu, David Murray, Mark Dresser, Mark Feldman, Tristan Honsinger, Dave Liebman, Gerry Hemingway, Ingrid Laubrock, Urs Leimgruber et Gebhard Ullmann, avec qui il a plusieurs fois enregistré.
Son premier disque remonte à 1981, pour le label FMP, et il a tourné dans le monde entier mais pas beaucoup en France, si je ne m'abuse. Le confinement COVID a permis à Andreas Willers de faire aboutir un projet qu'il avait dans ses cartons, celui d'enregistrer un disque d'improvisations pour guitare acoustique en solo. Bien que s'étiolant un peu sur la durée, ou du moins devenant plus classique, le résultat est souvent impressionnant, tant le guitariste réussit à donner à son instrument, parfois à l'aide d'objets insérés entre les cordes et d'une utilisation percussive, une dimension inédite. Le dynamisme de l'ensemble ne fait pas oublier les bases solides dont dispose le guitariste, qu'il a eu la chance d'étudier avec Joe Diorio, compagnon de route de Stan Getz et auteur de plusieurs traités musicaux très réputés pour guitaristes.

Lothar Trampert, august 2021, Gitarre & Bass

An musikalischer Offenheit hat es dem in Berlin lebenden Gitarristen Andreas Willers (*1957) nie gemangelt: Er spielte Blues in der Charly Schreckschuß Band, studierte 1979/1980 am G.I.T. in L.A., danach an der Hochschule für Musik in Hamburg bei Harry Pepl, später auch bei John Abercrombie. Sein Debut 'Hier & Als Auch' erschien 1981, es folgten Kooperationenund Aufnahmen mit unterschiedlichen Musikern des modernen Jazz. Willers' 2018 erschienenes Trio-Album 'Derek Plays Eric' tangierte dann wieder den Blues-Rock. 'Haerae' ist eine Solo-Produktion, die Andreas Willers allein zu Hause, mit seinen diversen Steelstrring-Gitarren produziert hat: freie Improvisationen zwischen Geräusch und Tonalität, oft harte Kost, teils inspirierende Klang-Experimente und hier und da gibt es auch mal Sequenzen, die im konventionellen Sinn virtuos sind. Andreas Willers ist ein beeindruckender Musiker, der typische Avantgarde-Avantgardist, dessen Musik niemals eine marktkompatible Jazz-Strömung wurde. Hier kann man seine Kunst kennenlernen.

Petr Slabý, 17 may 2021, hisvoice.cz

Andreas Willers na titulu Haerae využívá dvě akustické kytary – 1930´s Bacon And Day Sultana archtop a 1956 Gibson G-2 flattop – tu první používá v experimentálnějších skladbách či pasážích. Úvodní a závěrečná kompozice (pomineme-li krátký apendix) vyznívají poměrně klasicky ve všech slova smyslech a mají tedy spíše až vážnohudební pojetí s určitou příměsí ECM jazzu bez větších zvukových kotrmelců. Průnikem je pak skladba Boht Single, kde Willers používá obě kytary a rezonanční kejkle se tu střídají s normálnějšími postupy, což vytváří zajímavý kontrast. Zcela neotřelá je pak struktura kompozice Mnemo, kde počáteční vibrace postupně doplňují údery do korpusu a různé chřestění a šustění, splývající v další vrzavo-skřípavé zvuky. Jakýmisi milníky jsou pak rozsáhlejší skladby Lanhg´s Arm (3-5 a 6-8), v nichž se ze základních převážně meditativně laděných motivů porůznu vylupují drsnější vsuvky či zámlky a změny, někdy i stupňovaná naléhavost, jindy rozkouskování, či to v nich Andreas dokonce v jednom momentě s téměř košíkářským nádechem pořádně rozbalí. Základně fragmentárně je postavena kompozice Falten se zcela rozbitým rozřáděným závěrem. Opět tedy ukázka zajímavě řešené mnohapolohovosti bez exhibičních klišé.

Stuart Broomer, 6 may 2021, The Whole Note

As the COVID-19 lockdown settled in spring 2020, German guitarist Andreas Willers began a solo recording, the same kind of project with which he had debuted 40 years earlier. He's playing two steel-string acoustic flat top guitars here, usually one at a time, though there are pieces when there may be two involved, and he's playing them in a number of ways, whether traditional or employing extended techniques.
Willers clearly loves the guitar as an instrument, exploring its nooks and crannies and the myriad sounds they harbour, many the kinds usually avoided: the metallic slap of detuned lower strings against the fretboard; likely the rustle of a plastic bag covering the picking hand; strings scratched longitudinally with fingernails or maybe rubbed with a moistened thumb; some hard material with some weight, probably plastic, dropped on the strings of a horizontal instrument. None of these things appear in isolation but arise in making spontaneous music, each piece developing a rich, varied life of its own in which evolving timbres and events create a sonorous whole. Sometimes he plays guitar in a conventional way, as in the three movements of langh's arm 6-8 which abound in brilliantly articulated runs, dense chordal passages and singing, reverberant highs; there are dashes of blues, flamenco and slide with strange mergings of idioms.
While its likely audience is attuned to free improvisation, there's enough exuberant guitar exploration here to appeal to any adventurous enthusiast of the instrument.

Bruce Lee Gallanter, 16 april 2021, DMG

Featuring Andreas Willers on two acoustic guitars: a 1930's Bacon&Day Sultana archtop and a 1956 Gibson LG-2 flattop. I've been a fan of Berlin-based guitarist, Andreas Willers, since the early aughts, hearing him work with Paul Bley, Louis Sclavis, Gebhard Ullmann and Urs Leimgruber. In the two decades since I've been aware of Berlin-based guitarist, Andreas Willers, I've heard him play in various groups as well as a solo performer. Half of his dozen previous discs are with collaborators, the other half are solo efforts. For most of his solo efforts, Mr. Willers has played both electric & acoustic guitars, banjo, bass and with different effects. This disc seems to be his first with just playing acoustic guitars. From the gitgo, Mr. Willers is playing quick, sprawling flurries, speeding up, slowing down, bending & twisting certain notes, balancing between varied extremes, rubbing the body of the guitar with a wet finger or hand, detuning the guitar so that the strings hang loose, rubbing or banging on the strings in all sorts of weird ways. Mr. Willers slows down for the more sparse and cerebral, "Langh's Arm 3-5", giving us a chance to appreciate the space between the notes as much as the fragile played nots as well. It takes some time to adjust to the way Mr. Willers plays, he likes to assemble both fractured eruptions with spare moments so we rarely know what is coming up or how things resolve (if they in fact do). Once I adjusted, I started to hear the way these pieces fit together. There seems to be several conversations going on here between the more abrupt, frenzied sections and the more spacey, restrained parts. An excellent solo guitar offering which takes some work but is well worth the journey.

Ben Taffijn, 29 march 2021, nieuwe noten

Geen betere manier om een gitarist goed te leren kennen dan via een solo album. Vandaag en morgen komen er een aantal aan bod, te beginnen met de Franse gitarist Guillaume Gargaud en de Duitse gitarist Andreas Willers. De eerste bracht 'Strange Memories' uit via het Italiaanse Setola di Maiale, de tweede realiseerde 'Haerae' via Evil Rabbit Records. Beide beperken zich tot de akoestische gitaar, zonder toevoeging van elektronica.
(...)
Andreas Willers is al een stuk langer actief, hij bracht zijn eerste album uit in 1981 bij het legendarische FMP, toevallig ook een solo album en werkte in de jaren daarna samen met een breed scala aan musici, met name uit zijn vaderland. En nu is hij dus weer solo te horen, dankzij de lockdown kwam het er weer eens van. Het meest opvallende aan het album is het weerbarstige karakter van Willers' spel. Zeker in vergelijking met het album van Gargaud is 'Haerae' verrassend dynamisch en zeer complex. Daarnaast vallen de onorthodoxe technieken die Willers inzet op, bijvoorbeeld in het bijna spookachtige 'Both Single', waarin hij duidelijk meer doet dan alleen de snaren beroeren en in 'Mnemo' waarin hij werkt met verschillende preparaties van de snaren. En dan zijn er nog twee de twee lange en zeer experimentele stukken 'Langh's Arm 3-5′ en 'Langh's Arm 6-8′ die indruk maken, met name het ritmische deel in het tweede stuk is de zeer de moeite waard.

Jan Granlie, 23 march 2021, salt-peanuts

Når man setter på en plate med solo akustisk gitar, har man gjerne en idé om at musikken skal være teknisk perfekt og gjerne inneholde noe brasiliansk eller Syd-Europeisk. Men det gjelder ikke for gitaristen Andreas Willers, som trekker mye nærmere en gitarist som for eksempel John Russell og andre gitarister som tar den akustiske gitaren med seg inn i «freejazz-land».
Andreas Willers, startet sin musikalske karriere i bluesbandet Charly Schreckschuss Band og i diverse avantgardegrupper. Han studerte først ved Guitar Institute of Technology i Los Angeles i 1979 og 1980 før han fullførte studiene ved Hamburg University of Music and Theatre med læreren Harry Pepl og senere med John Abercrombie. På selskapet FMP (Free Music Production) utga han soloalbumet «Hier & als Auch», og startet et duosamarbeid med saksofonisten Gebhard Ullmann. Han flyttet til Berlin i 1983, hvor han jobbet med Ullmann, Martin Lillich og Niko Schäuble i kvartetten Out to Lunch, som også turnerte utenlands, og spilte på flere av de store festivalene. Han turnerte og spilte også inn med trompeteren Enrico Rava. I 1987 spilte Willers og Ullmann som Minimal Kids med perkusjonisten Trilok Gurtu, før de senere spilte med trommeslageren Steve Argüelles, og gjorde plate med han, Bob Stewart og Marvin Smitty Smith. Han har ellers samarbeidet med musikere som Paul Bley, Yves Robert, Gerry Hemmingway, Hans Lüdemann, David Murray, Marc Ducret, Axel Dörner, Jan Roder, Misha Alperin, Tom Rainey og mange flere.
Nå møter vi han altså solo i et opptak fra april 2020. Vi får åtte relativt frittgående sekvenser, som hele veien er personlige, men hvor jeg føler at man kan kjenne igjen spillet til flere av mine favorittgitarister. Og da snakker jeg ikke om musikere som Fred Frith, Marc Ribot og andre i den aller mest moderne måten å traktere en akustisk gitar på, men flere ganger dukker Ralph Towner opp i bakhodet, og jeg tenker at hadde Towner startet sin karriere i dag, ville han muligens ha spilt slik.
Det er en kreativ musiker vi møter som kan sin 6-strenger. De enkelte sekvensene skifter i stemninger, og innimellom er det like før han legger seg på en «straight» blues, men unngår i siste øyeblikk å gå i «tre-grepsfella». Men akkurat i det jeg er sikker på at vi får en litt «rølpete» blues, snur han tvert om, og serverer en svært eksperimentell sekvens. Og når han legger på litt sår stemme over gitaren, blir vi automatisk tatt med over i et helt annet landskap, hvor bluesen ligger som et grunnelement.
Og hele veien får vi, mer eller mindre, variasjoner over blues spilt på akustisk gitar på en helt annen måte enn vi fikk det fra de gamle, sorte, amerikanske bluesmusikerne, som Furry Lewis og lignende, og som dukket opp på Moldejazz og andre europeiske jazzfestivaler på 70- og 80-tallet. Her får vi en som har mer enn ett bein i tradisjonen, men som er med på å lage en ny bluestradisjon og som tar musikken flere skritt framover. Og gjennomgående er dette blitt en spennende soloplate, med en europeisk gitarist vi håper å høre mer til i fremtiden.

Andrzej Nowak, 12 march 2021, spontaneousmusictribune.blogspot.com

Zostawiamy już kwartety i przechodzimy do podrozdziału improwizacji solowych (tu także zwanych kompozycjami). Aż dziwne, iż z niemieckim gitarzystą Andreasem Willersem, dalece nienajmłodszego już pokolenia, spotykamy się na tych łamach po raz pierwszy. Gra tu on na dwóch jeszcze od niego starszych gitarach akustycznych. Płyta składa się z ośmiu części, trwa prawie 49 minut, a nagrana została w kwietniu ubiegłego roku, zapewne w samotnych okolicznościach pandemicznych.
Już na wstępnie odnotujmy, iż pierwsze dwie improwizacje na płycie są doprawdy doskonale! Muzyk pląsa po strunach niczym prestidigitator, sztukmistrz wyposażony w setki palców, tańczy na nich, rwie je strzępy i raz za razem odnajduje molekuły dźwięków. Struny gitary drżą, trzeszczą, rezonują, a muzyk bawi się nimi jak dziecięcymi perkusjonaliami. Narracja potrafi tu przypominać pijanego Django Reinhardta, by za moment przywołać w głowie skojarzenia z Derekiem Baileyem, który wypił zbyt dużo kwasu z samego rana. Muzyk dewastuje gitarę, preparuje dźwięki, by za moment płynąć post-bluesowym tembrem i czekać na oklaski. Brzmienie instrumentu jest chwilami szorstkie, innym razem melodyjne, a muzyk zdaje się zmieniać gatunkowe konotacje jeszcze szybciej niż wydawać dźwięki. Druga improwizacja zwalnia i zaczyna wykorzystywać akustykę pudła rezonansowego gitary – wszystko zdaje się tu trzeszczeć, pulsować, oddychać swoim życiem, piszczeć i niemal śpiewać. I znów, w tym tyglu pokręconej dramaturgii, muzyk odnajduje źdźbła dźwięku, a na sam koniec brzmi frazami niemal post-jazzowymi.
Kolejne utwory nieco spuszczają z tonu, zwłaszcza te najdłuższe. Muzyk cedzi frazy, szuka bardziej oczywistych, nawet klasycznych grepsów gitarowych. Można odnieść wrażenie, że na jednej płycie chciałby zawrzeć wszystkie swoje inspiracje, a także pokazać kunszt (niepodlegający dyskusji!) w dowolnie zadanej estetyce. Niemniej, na płycie nie brakuje kolejnych perełek. W czwartej części Willers bawi się w minimalistyczne gierki na pograniczu ciszy. Śle kilka fake sounds, czym skutecznie utrzymuje uwagę słuchacza. Potrafi rysować zadziorne frazy znów godne Baileya, by po chwili brzmieć jak mandolinista. W piątej części mruczy i ciekawie preparuje dźwięki, w szóstej jego instrument rezonuje każdym swoim elementem, a w siódmej skrzy się post-barokowymi ornamentami. Na samo zakończenie Andreas produkuje kilka post-bluesowych fraz i ewidentnie puszcza do nas oko. Intrygująca płyta, skrócona o kilka czy kilkanaście minut rzuciłaby nas na kolana bez cienia wątpliwości.

Geert Ryssen, 19 february 2021, fullcirclemisicblog.be

German guitarist Andreas Willers performs eight pieces solo on acoustic guitar. As with many musicians, the corona era is the trigger to be creative on a small scale. On 'Haerae', Willers improvises with complete abandon, sometimes for ten minutes, sometimes only a minute and a half. The sounds he produces are not always what is conventionally expected of his instrument. The sonorous possibilities are explored from all angles, but this is not a mere study work. Each piece does have a direction and a certain atmosphere and sounds like a set of thoughts that include associations, inferences and jumps.

The musician in Willers blooms again in beautifully constructed gems that do not violate silence.

Geert Ryssen, february 2021, jazz & mo'

De Duitse gitarist Andreas Willers brengt solo acht stukken op akoestische gitaar. Zoals bij veel muzikanten is het coronatijdperk de trigger om kleinschalig creatief te zijn. Op Haerae improviseert Willers er met volle overgave op los, soms tien minuten lang, soms slechts anderhalve minuut. De klanken die hij tevoorschijn tovert zijn niet altijd wat conventioneel van zijn instrument wordt verwacht. De sonore mogelijkheden worden vanuit alle hoeken verkend, maar toch is dit geen louter studiewerk. Elk stuk heeft wel degelijk een richting en een bepaalde sfeer en klinkt als een stel gedachten waar associaties, gevolgtrekkingen en sprongen deel van uitmaken.
De muzikant in Willers bloeit telkens weer open in mooi ge(de)construeerde pareltjes die de stilte geen geweld aandoen.

Dolf Mulder, 16 february 2021, vital weekly #1272, week 7

This is a great work of solo acoustic guitar music by German improviser Andreas Willers. So far, I was only aware of the work by Hans Reichel, another interesting German improviser on acoustic guitar. Willers is of the same generation and started his work at the end of the 70s. His first album was a solo album, released in 1981 for the famous German FMP-label. Over the years he worked in the fields of improvisation and jazz as well as new music, taking inspiration from blues, rock and noise. After a career of over 40 years, his collaborations are too many to mention. Occasionally he recorded a solo album what makes 'Haerae' one in e series of solo albums he recorded over the years. The title sounds Latin, but I'm not sure… He presents eight improvisations that were self-recorded in April last year and underwent only minor editing. He plays on two different acoustic steel string guitars and uses some small objects. Willers has a baffling technique using many extended techniques. This does not make however his improvisations of a highly abstract calibre only, nor is it just a showcase of his technique. His improvisations remain very accessible and also poetic in a curious way. The sounds, the gestures and motives he creates lead up to music that is very imaginative and personal, imprinted by a story he wants to tell. 'Both Single' consists of two very different parts. The first part investigates sound and vibration, whereas the second part is far more conventional with melodic elements. Because both are parts of the same 'piece' one tries to find a connection. But the differences prevail. Well, the title gives a clue I suppose: 'Both single'. This is only one example of how Willers plays with contrasts. There are sections with allusions to jazz and blues using melodic elements on the one hand, like 'Langh's arm 3-5'. On the other hand, an improvisation like 'Mnema' is an example of his interest in exploring sounds, starting with bouncing motives, followed by percussive sounds, playing the guitar body, very noisy sounds, etc. A very tasteful recording of diverse improvisations.

Peter Bruyn, 28 january 2021, frnkfrt

(...) Andreas Willers is zestiger, zeventien jaar ouder dan De Boer, studeerde gitaar aan conservatoria in Los Angeles en Hamburg, geldt als virtuoos op — vooral — de elektrische gitaar en maakte naam in jazzkringen. Hij speelde en speelt met coryfeeën als Trilok Gurtu, Gerry Hemingway (2), David Murray en Paul Bley, en ook veel met de Duitse jazzbassist Meinrad Kneer, op wiens Evil Rabbit Records hij 'haerae' uitbracht.
Ook hij heeft alleen een enkele akoestische gitaar ter beschikking — nou ja, eigenlijk twee die hij in de verschillende nummers afwisselend gebruikt — maar terwijl ook hij zich beperkt tot tokkelen op de snaren, het aanslaan van akkoorden en het bekloppen van de klankkast, is zijn speltechnische bagage veel uitgebreider. En dat laat hij horen ook.
Net als bij De Boer heeft Willers acht stukken op zijn album gezet. Maar waar de muziek van de Nederlander iets contemplatiefs heeft, haalt de Duitser werkelijk alles aan snarenacrobatiek naar boven. Het is een indrukwekkend spelen met gitaristische vormen, om daarmee als het ware inhoud te scheppen. Op zijn website heeft hij het zelfs over 'een knipoog naar de Giuffre/Bley methode van bedachtzaam gedeconstrueerde narratieve structuren'. Nou, dat zal dan wel. Het doorgronden van die methode is in ieder geval geen voorwaarde om het album te kunnen waarderen. Het is muziek waar je oprecht van kunt genieten, omdat je als luisteraar de vakmanschap voelt. Een vakmanschap die niet op ongeïnspireerde routine is gebaseerd, maar juist bezield is. (...)

Rigobert Dittmann, january 2021, Bad Alchemy 109

Meinrad Kneer, Bassist in 7 of 8, konnte ANDREAS WILLERS, den Anführer dieser Tafel¬runde, nicht davon abhalten, dem Evil Rabbit, in dem sich unschwer ein Verwandter des Rabbits of Caerbannog erkennen lässt, ein Ständchen zu bringen. Mit nichts als 'ner akus¬tischen Klampfe, genauer gesagt, zwei Steelstrings, einer Bacon & Day Sultana Archtop aus den 1930ern und einer 1956er Gibson LG-2 Flattop. So entstand in Kleinmachnow Haerae (ERR31) und lässt mich von vornherein schwimmen zwischen haerēre = hängen / stecken bleiben, dem Psalm Ecce hæreditas Domini = Siehe, Kinder sind eine Gabe des Herrn, der Häresie = die Wahl einer abweichenden Anschauung? Ist, was 'Falten' wirft, ein Stoff? Stecken in 'Mnemo' Erinnerungen oder der kleine Nemo? Schon "Nulli Secundus" (2012), Willers' freihändiges Miteinander mit Kneer und Christian Marien, hatte ja mit la¬teinischer und wortspielerischer Sophistication gezwinkert. Unter Corona-Bedingungen klingt nun ein Solo 'so.low' und langsam wie 'langh's arm'. Ging das gut? 's gieng'. Als mit Bedacht vorgenommene Dekonstruktion narrativer Strukturen, für die Willers der Giuffre/ Bley-Methode Dank abstattet. Warum bleiben aber die Tausendfüßer, die er Fuß für Fuß akribisch studiert hat, unerwähnt? Willers harkt und biegt die Saiten wie mit Krallen, die Töne krabbeln, springen, krümmen sich in rasanter Dynamik. Flimmerndes Flirren chan¬giert mit schwammiger Reibung, drahtigem Federn, holzigem und trapsigem Klappern, gedämpftem Saitenspiel. Pikanter Swing kollidiert mit flattrigem Nachhall, schrappenden und schabenden Gesten, pochenden Lauten, knurschender Blisterfolie. Trillerige Stau¬chung oder ostinater Nachdruck kontrastieren mit gedehnter, silberfadenfeiner Poesie. Der phantastische und in Derek Plays Eric ebenso gern wie in Grid Mesh gehörte Könner entlockt da mit spitzen Fingern und unorthodoxen Eigensinn dem millionenfach abgedro¬schenen Instrument doch freiweg nochmal zauberische Frühlingsgefühle.