---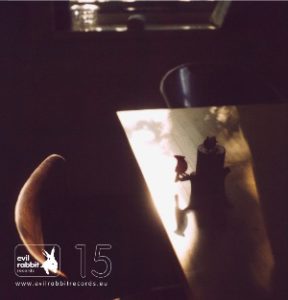 ---
Album Info
recorded by albert van veenendaal, late autumn 2008, amsterdam
mixed and mastered by micha de kanter
all compositions by le coultre/ van veenendaal © buma
special thanks to: andrée le coultre, lisa haskins, tibor kerbosch, jeff carreira, peter simmons, batyah schachter, susan bridle, sara ercoli, monique besten, vincent van dijk, jeroen de gouw, micha de kanter
design: lysander le coultre (strangelove creatives)
photography: monique besten
distribution: www.subdist.com
evil rabbit records is a member of www.toondist.com
Reviews
stuart kremsky, july-september 2012, cadence vol. 38, no 3

the cello and piano team of the late lysander le coultre and albert van veenendaal delivers a succinct and wide-ranging recital of improvised duets on a cool tree. the set opens with a ruminative piece, mildly dissonant and slowly moving. "ping pong" functions mostly as a call and response strategy focused on "unnatural" sounds like the rapidly bounced strings of the cello or string and pedal manipulation at the piano. the duo has a good sense of the proper proportions of invention and duration, and most of the tracks here are under 4 minutes. le coultre's mournful cello introduces "in the middle there is no end" with van veenendaal stabbing at the piano at first then unrolling his own sad melody. this is one of the longer pieces, and it develops with a high-spirited middle section before falling back into the quietude of the opening passages. the pianist takes the lead on "answers only" with a serpentine melody that seems to pose a question. le coultre responds with pizzicato directness. they trade lines for a while, then get together and ride their interactions to the end. the taut and pensive summer night's dream has an appropriately late night feel, with a sense that of foreboding that's continued with the even gloomier "totterdown." starting very quietly deep in the bass register, this subterranean piece ends with eerie scrapes and bangs on the piano. "calabrone" juxtaposes an upbeat piano line with darkly resonant arco cello. "peculiar continuum", an apt description of the entire enterprise, features a hollow-sounding piano and piercing cello in a blend that wouldn't be out of place in an old horror film. finally, there's "firefly", a plainly lovely melody that comes as a bit of a surprise and puts the rest of the short program into a new perspective with a new respect for the pair's efforts. sad to say, there won't be more, since le coultre died suddenly in early 2009. very nicely recorded by van veenendaal, and well worth hearing.

luc bouquet, 4 may 2012, le son du grisli

we certainly cannot blame the duo founded by lysander le coultre (died early 2009) and albert van veenendaal, for holding back. cello and piano merge and do not let go anymore. mysterious melodies (a cool tree), bareness, simplicity and beauty of gesture (firefly, calabrone): the music of the duo le coultre - van veenendaal cannot hide their lyricism and rejection of abundance. ? ?cellist and pianist, by always refusing to break their connection and never walking away from the chosen space, define and live a night of graceful dreams.

jazzowy alchemik, 16 march 2012, jazzalchemist

i admit both names present on this cd are completely new to me. which is even more exciting, but also quite sad as this is a posthumous release, tribute to the talent of lysander le coultre who died on january 29, 2009. in a way he comes from beyond the grave to share this with us - but i don't want to play any metaphysics wordplays. this is a true pearl, a gem of spontaneous improvisation, born from the tradition of european chamber music and contemporary avant-guarde. wonderfull unity of piano and cello, dialogue of two noble instruments, both well rooted in the history of classical music.

on one hand there are some passionate, fiery and virtuosic exchanges, gypsy-like flights ("ping pong", "totterdown"). "calabrone" displays incredibly intensity of communication,"call and response" sequence so rapid that is almost visible how perfectly the musicians are able to act and react to each other continously, how profound is their communication. on the other hand there are pieces of incredibly intimate, haunting and mysteriously enchanting music. echoes, whispers, delicate harmonies and melodies - sacred mystery filling each note and each pause. like the romantic melody of "firefly" with its charming satie-like piano melody and beautifull pizziccato solo on cello, and the captivating crescendo to end the piece. or delicate as a moon's light ray "summer night's dream" (achingly beautifull track). or haunting beginning and ending of "in the middle there is no end" with its long pauses and single, suspended piano notes, echoing in silence, closing inbetween a sharp, dense, fiery improvisation of fast arpeggios and clusters.

at 36 minutes this cd is almost painfully short. feels like there was so much more to tell. like it all ends too soon. and the only thing i can do is to press 'play' again and start with the first track. absolute treasure of spontanous composition, of chamber music. this is music of beautifull soul. captivating, engaging, illuminating.

e.g., 3 march 2012, sands-zine.com

first, we notice the word game between the disc title and the name of the cellist lysander le coultre (coultre - coul three - cool tree), then the music. the 'cello – piano' duo is one of the longest-lasting instrumental formulas in classical music, but also one of the formulas that has been renewed, through fresh and jovial 'raids' in contemporary and especially improvised music. this is due to the adaptability and technical characteristics of the two instruments, which can also provide a wide range of tone. the two dutchmen interpret the contemporary representation of the duet at their best, either by constant exchanging roles either by tête-à-tête encounters.

there is a little more than half an hour of music, but a considerable intensity and variety of situations which go from the impressionistic and romantic mood of 'a cool tree' and 'in the middle there is no end', to the more jazzy phrasing in 'answers only' and 'calabrone', leaving no stone unturned along the way, as the rarefied and minimalist atmosphere of 'summer night's dream'.

remarkable is the call-and-response dialogue in the more experimental 'ping pong', and also in 'totterdown' and 'peculiar continuum', where the piano becomes a percussive subject to witness and support the drawings of the cello. piano and cello, two very different instruments finding a way to play and have fun together as a dog and a cat, which spent a common childhood. maybe now and than a bite and scratch happen, but they're always given with love and grace.

dm, february 2012, vital weekly

this one is a tribute to lysander le coultre, one of the founders of evil rabbit records and responsible for the beautiful artwork.

he died unexpectedly in 2009. he was also a musician and played cello. this release captures spontaneous improvisations that keep the memory of him alive. i'm not sure this is the only release that has le coultre as a performer. these improvisations were recorded one year before his death in amsterdam on a sunday afternoon in the autumn. the cd contains duo- improvisations of le coultre and albert van veenendaal (piano). in these miniatures different moods and tempers pass by. they play a fine and varied set of thoughtful and vivid improvisations, full of ideas. very accessible and in a way close to chamber music. the improvisations develop in a pronounced way from start to finish. no doubt we would have heard and seen more from le coulte, but fate had other plans.

rudie kagie, 13 january 2012, vrij nederland

the black cardboard covers are as uncompromising as the repertoire the sympathetic label evil rabbit records distributes. this packaging concept is a design by lysander le coultre, who also was a passionate cello player.

one sunday afternoon, late autumn 2008, le coultre visited piano player albert van veenendaal, co founder of the label, in amsterdam. they started playing together, unprepared, spontaneously and passionate. as usual, the pianist recorded the session. a few months later, on january 29, 2009, lysander died suddenly and unexpectedly, only 46 years of age. thirty-six minutes of the music they recorded that inspiring sunday afternoon have been released now, entitled a cool tree. "they will keep the spirit of his original talent alive", is written in the liner notes. the most beautiful is: even without this sad detail this would have been a heartwarming album.

eder, jan 2012, freistil

"a cool tree" is probably one of the last recordings by lysander le coultre; the dutch cellist died suddenly and unexpectedly three years ago.

together with albert van veenendaal (piano), he recorded in late 2008 nine free improvisations: miniatures of sudden departures and everlasting new beginnings. what sounds pathetic here, sounds sober, serene and cold/warm there. at the beginning of each piece there is sonic "prima materia": atonal, diffuse, static. gradually the duo shapes it and gives it form. there is a dialectical process, which unfolds in front of the listener's ear, when le coultre's melody lines cut through van veenendaal's repetitive rhythms, which will, while being broken down into its components, be reassembled into new forms. and there are many musical forms, which are used primarily by van veenendaal. uncompromisingly repetitive rhythms crystallize from sound, reminiscent of waldron's quest for the perfectly set tone; classic melody lines are passing by, tripping over themselves and burst into wisps of new music. the suggestion of a climax and then: silence. next track: a fresh start. only in "firefly", the last piece, the culmination is celebrated and savored. le coultre's plucked cello lines dance over ascending piano chords into heaven. wistful and yet full of determination. a poignant farewell.

herman te loo, 19 december 2011, jazzflits nr 169

while listening to "a cool tree", the same feeling came over me, as when reading the requiem novel 'tonio' of a. f. th. van der heijden. you meet a special person and at the same time you have to say good bye to him.

lysander le coultre was very important for evil rabbit records as the ingenious designer of their covers with the rabbit hole. he was also a talented cellist, something we already could witness on the latest cd by lotz of music ("bite") and now on this wonderful duo cd with albert van veenendaal. i have to write all this in the past tense, because le coultre died suddenly in january 2009 at the age of 46.

on "a cool tree" we hear a wide range of musical approaches and musical sphere-adventures. the result can sometimes be as bare and sober as a composition by erik satie or anton webern, as well as working towards a fierce climax as in a song by radiohead. the latter occurs for example in 'firefly', which opens with a moving melody on piano, while the cello accompanies it, but emerges slowly that role, to answer the piano by improvising a counter melody. that constant playing with each other, around each other and contrasting each other, holds up the adventure for the full 36 minutes. given the sad outcome it is a miserable amount of time, and given the quality of what is offered, even less. but that is the only remark which can be made about 'a cool tree'. a worthy requiem, though of course the recording was never intended as such.